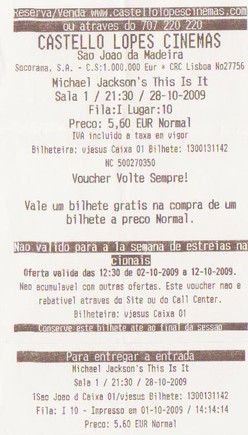 Mal posso esperar por logo à noite!

Já tenho um lembrete no telemóvel para não me esquecer do bilhete, cabeça no ar como sou... Mais vale prevenir :)
Para ir acalmando a ansiedade, nada melhor do que ouvir a música que dá nome ao espectáculo :)
This Is It é uma música lançada pela Sony para a colectânea This Is It do cantor Michael Jackson.
A música foi lançada no dia 12 de Outubro de 2009 para promover a colectânea com o mesmo nome que será lançada dia 26 de Outubro como trilha sonora do filme "Michael Jackson's This Is It".
This Is It gerou muita polémica na semana do seu lançamento ao começar pela estratégia de segurança que a música sofreu: para a música ser disponibilizada no site foi criado um super esquema de segurança que contou com um carro blindado para o transporte da canção até a sede da Sony para ser disponibilizada no site oficial do cantor. Depois da música ser vinculada, saiu uma notícia que decepcionou muitos fãs: a música não era necessariamente inédita, em 1991 foi lançada pela cantora Sa-Fire, mas os média não divulgaram um facto importante, trata-se de uma música de gravação caseira que Michael Jackson nunca planeou lançar. A Sony apenas a lançou porque a colectânea que será lançada como trilha sonora em 26 de Outubro chamar-se-á This Is It, e para ter um diferencial terá essa música "inédita".
A música foi gravada antes de Michael Jackson morrer.
wikipedia
This Is It
This is it, here I stand
I'm the light of the world, I feel grand
Got this love I can feel
And I know yes for sure it is real
And it feels as though I've seen your face a thousand times
And you said you really know me too yourself
And I know that you have got addicted with your eyes
But you say you gonna live it for yourself
I never heard a single word about you
Falling in love wasn't my plan
I never thought that I would be your lover
C'mon baby, just understand
This is it, I can say,
I'm the light of the world, run away
We can feel, this is real
Every time I'm in love that I feel
And I feel as though I've known you since 1,000 years
And you tell me that you've seen my face before.
And you said to me you don't want me hanging around
Many times, wanna do it here before
I never heard a single word about you
Falling in love wasn't my plan
I never thought that I would be your lover
C'mon baby, just understand
This is it, I can feel
I'm the light of the world, this is real
Feel my song, we can say
And I tell you I feel that way
And I feel as though I've known you for a thousand years
And you said you want some of this yourself
And you said won't you go with me, on a while
And I know that it's really cool myself
I never heard a single word about you
Falling in love wasn't my plan
I never thought that I would be your lover
C'mon baby, just understand
I never heard a single word about you
Falling in love wasn't my plan
I never thought that I would be your lover
C'mon baby, just understand